More than a decade ago, many people thought transit advertising and other traditional marketing will fall to the social media onslaught.
But today, bus advertising stands strong, driving impressions daily , and helping businesses to reach new customers, establish emotional connections and drive bottom lines.
But how much does it cost to advertise on BRT buses in Lagos?
Of course, we'll get to that soon, but first, let's examine why advertising on BRT buses is never a mistake and why savvy brands scramble for them.
So, let's get started.
Why BRT Advertising Works
BRT, an acronym for Bus Rapid Transit, in recent times is starting to redefine the facets of branding.
BRT Advertising is one of the most effective and cost-effective forms of outdoor advertising and it has an amazing reach of 200,000-600,000 views per week.
Transit Advertising allows you to get your customers raptured in your ads as they sit in the buses, drive by or walk by.
When wrapping a BRT bus with your ad, it's important to note that you can either wrap the interior, the exterior or most preferably both, for aggressive marketing.
Through BRT Advertising, a large number of people can be reached as pedestrians just walking along the way, families driving and even passengers, have their eyes just a few inches or metres away from your ad.
Although traffic seems to be a disadvantage in Lagos, when it comes to BRT Advertising, it poses an advantage. It buys your ad more time in the face of the consumers.
Unlike Billboards, BRT Advertising can't be skipped, muted or passed by easily majorly because of the high vehicular traffic, and the passengers whose choices are quite limited while in transit.
Let's not also forget the high concentration of people in Lagos, as this is also an enabler in the success of your ad immersion because of the several eyeballs that your brand has the potential to capture through effective communication.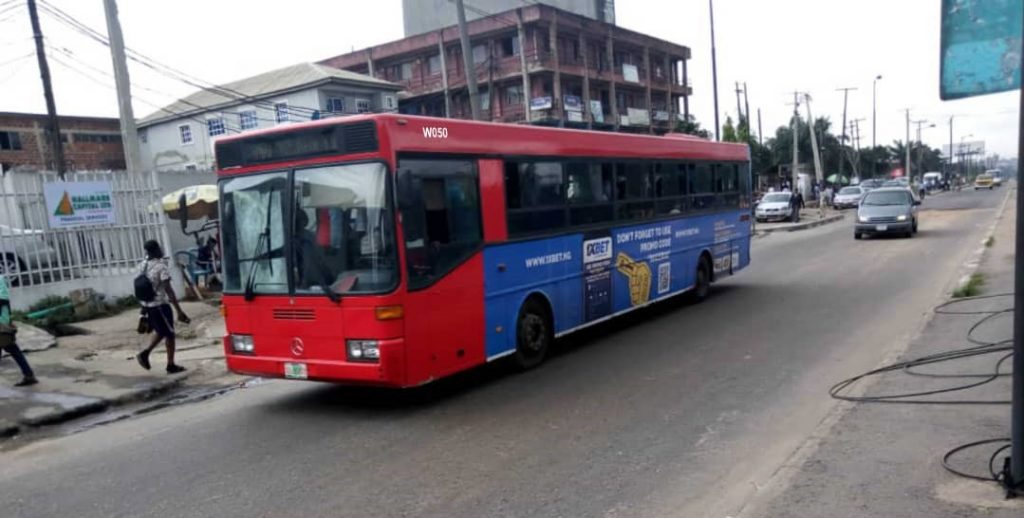 Red BRT Bus Advertising Cost in Lagos
The cost of BRT Advertising varies according to the type of BRT bus you want to use as different BRT buses ply different routes.
Red BRT buses were the first to be introduced into the Lagos Transportation System and are quite notable for its large width for branding.
They ply most of the major routes in Lagos such as: Ojuelegba, Berger, Palmgrove, Ojota, Ikorodu, Gbagada, Stadium(Surulere), Costain, Carter Bridge and CMS. They also ply the Lekki-Ajah Axis.
Advertising on Red BRT buses costs an estimated N140,000 monthly per bus.
Given that Red BRT buses navigate through major routes on the mainland, your target audience can be properly attracted to your ad and eventually, your brand.
Cost of Advertising on the Blue BRT Bus in Lagos
Blue BRT buses are a more preferred form of transport for commuters because they are more luxurious and offer better comfort.
They have the advantage of letting your ads sit on both the interior and exterior sides of the BRT bus. They shuttle between Ikorodu and TBS respectively.
Advertising on Red BRT buses cost a monthly fee ranging between N140,000 – N170,000 monthly per bus.
Getting Started With BRT Advertising in Lagos, Nigeria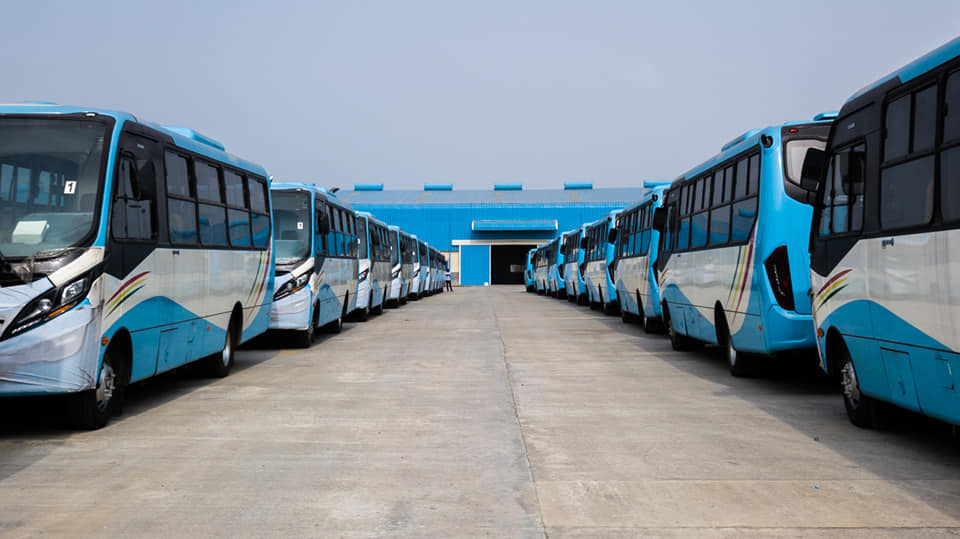 BRT Advertising is fast becoming a leader in today's outdoor Advertising and it's best to leverage on its fame now, for effective OOH Advertising.
Just like every other form of advertising, there are basic requirements to ponder on when diving into BRT Advertising.
BRT Advertising will require the following:
Your Ad must undergo vetting by APCON.
A certificate of approval from NAFDAC for consumable goods.
Your Ad must be presented in CorelDraw format.
To ensure your ad drives home the point of your brand's message, check out the following pointers.
Ensure your Ad is attention-grabbing.
Properly segment your target audience.
Spend more time constructing a good strategy
Set aside a healthy budget for your marketing.
It's important to know the routes your consumers are situated and position your ads there.
Success is as important as the team you bring on board to help with your BRT Bus Advertising. A good team is of great importance in achieving the desired results.
Aggressive marketing is key, so marketing across different routes with different BRT buses that ply the area is a great idea.
When you channel sufficient time, energy and focus into your BRT Advertising, some of the advantages you'd achieve are:
Increased wider reach of your brand.
It's non-intrusive nature allows customers to properly interact with your brand without disrupting their day.
It's very cost-effective. For an ad that reaches lots of people as they walk, drive by or are in transit, its cost is quite affordable.
It helps boost conversion.
It grants you access to a diverse status and age of audience.
It helps create massive awareness.
As earlier stated, the success of your campaign is just as good as the team that handles your BRT Advertising. For a team that makes your BRT Advertising journey smooth, helps you design your artwork if you haven't got any and even handles your vetting process if you can't go through the stress, check out Transpose services.
The benefits of BRT Advertising are invaluable.
And if you've been undermining the intensity with which your BRT Advertising cuts corners, breaks barriers, captures your audience and induces conversion, then it's definitely time to rethink and take your marketing to the next level.